What Our Clients Have to Say
MAPLETON - MASTER BEDROOM/ENSUITE RENOVATION
Karen Johnston
Feeling universal gratitude… a month before Christmas I decided to follow my intuition and asked the universe for a builder with integrity, reliability, respect, consideration and a fair price… (my friends rolled their eyes and laughed)… well he presented within a day, RJ. Debenham Responsive Building (aptly named) efficient, honest, professional… the list goes on. Everyday I LOVE coming home to the changes, I am SO grateful for his professional colleagues/fellow tradies, his insights, his respect, consideration, his skills and the end results! I'm in love with my new bedroom, ensuite… new home. Gratitude to Rob and his Team!
MICHAEL TURNER
I used Rob Debenham of Responsive Building to fix up an issue we had with our old Queenslander with rotten stumps and poor drainage etc. Other builders came and went without even bothering to come back with a quote because the job was hard. Rob was keen to get it all fixed up for us, came up with great solutions to getting the job done quickly and efficiently and I was very happy he came to the rescue. Would highly recommend!
DULONG - PATIO EXTENSION
Jenny Inch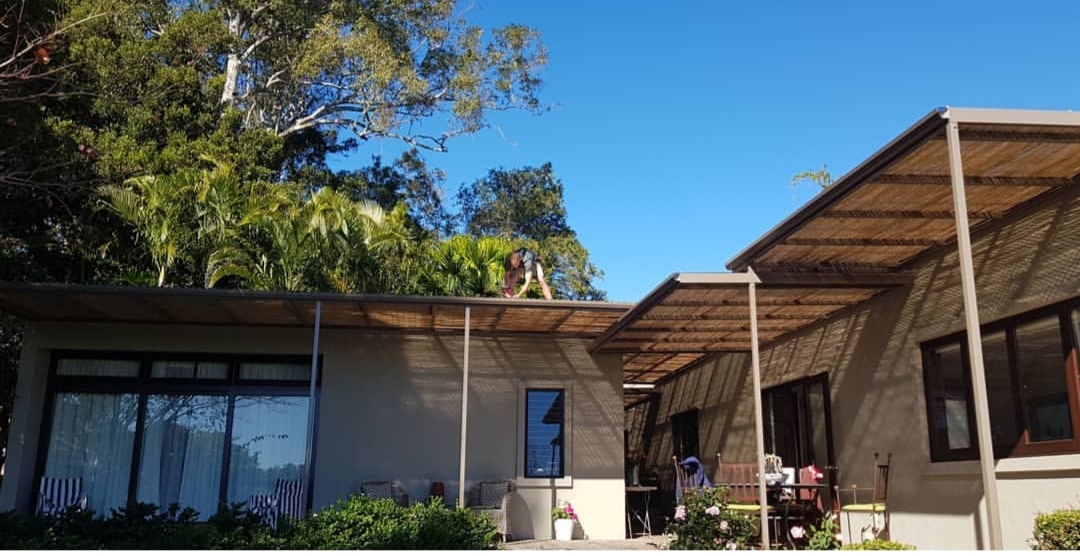 He was fabulous to work with..
Really good operator, very kind, very considerate, very respectful, standard of work was very good and he was very thorough. I would strongly recommend him as a contractor.
Mitchelton - Extension
Mike and Kirst Sweetman
"We are so grateful to Rob and the team at Responsive Building for the amazing job on our renovation. Their traders were outstanding, and attention to detail second to none. We had three kids under the ages of three and were living upstairs whilst the renovation was completed, so to say that the relationship with the builder was important on this job is an understatement - and Responsive Building truly delivered (Rob feels like another member of the family!). We made a bunch of changes along the way (often the case with a reno), and somehow Rob managed to incorporate them with minimal fuss to get the job done right. The results of the build speak for themselves and not a day goes by that we aren't appreciating some aspect of the build. It truly enhanced our lives. Responsive Building were worth every cent."
Everton Park - Renovation
Zane Taylor
Our extension was not straightforward, but combining modern materials and standards with a 100 year old existing Queenslander did not phase Rob and his team. Responsive Building were always very flexible, easy to work with and took on extra responsibility with regards to design and site management very effectively. The quality of the tradespeople used was very high and they were all very courteous and accommodating. We very much appreciated the efforts made to create consistency between the old and the new to produce a very high quality finish. The end result is a new extension that flows in and out of the old home seamlessly and does not look or feel like an extension. I would absolutely recommend Responsive Building to anyone."
Dulong - Home Extension
Mark and Jane Stevens
"Responsive Building were very professional with the extension to our home. Rob sat down with us and listened to our ideas, and then he delivered plans to make our renovation a reality. Communication before and during the building process was excellent, and nothing was an issue for Rob. Jane and I highly recommend Rob and his team for any of your building requirements."
Buderim - home renovation
Stephen and Maren Barnard
"We will definitely use them again for our next project"
"We recently undertook a home renovation and engaged the services of Rob Debenham at Responsive Building. Knowing we wanted to stretch our budget, Rob was open to giving us various options and was extremely engaging through the whole renovation process. The end result exceeded our expectations and we are very happy with our choice of builder. Rob is a friendly bloke, was always on time, communicates well and we will definitely be using him again on our next project."
Mitchelton - New Home
Paul and Sue Yager
"High attention to detail"
"We were very lucky to have Rob involved on our new house build when he was appointed as Project Manager. From our first meeting with Rob we felt very comfortable about having him on our project and weren't disappointed. His attention to detail and his willingness to work with us and to undertake minor design changes as we went was much appreciated and made the process as easy as could be. We've recommended Rob to others and have since had him back to do some additional work for us and couldn't be happier with the result."
If you feel like our team is the perfect fit for you and your building project, get in touch for an obligation-free chat about your ideas.